Aug/09/2013 02:07 PM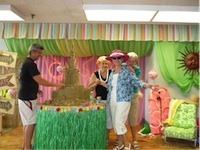 If you can't get to the beach, bring the beach to the neighborhood!

A beach party is universally synonymous with relaxation and fun in the sun!

Plan a beach themed party to celebrate the end of summer and you can guarantee your community a fun entertaining time for all ages.


Try some of these ideas:

Provide mini bubble sets to everyone - kids and adults!

Promote the party with an advertisement on your website.

Provide frozen drinks with bamboo umbrellas.

Upload simple templates to your neighborhood website (fish, mermaids, sharks, crabs, palm trees, sea horses, etc.) That can be printed, cutout, and colored beforehand - Use for decoration or contests!

Hold an oversized beach hat contest.

To assure great music, send an email blast asking everyone to name their favorite beach-themed songs.

(premium only)

Raffle off beach-themed prizes.

Set up two kiddie pools; fill one with water and one with sand.

Provide plastic sand pails and tools.

As with any community event, use your website to document the party. (Use common sense posting pictures of your neighbors in swimwear!)


Login now and get started!