Tip: Increase Volunteerism...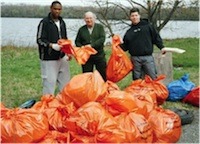 Use your website to bring people together to volunteer...

Everyone is busy and we all have limited time to volunteer. However, volunteerism is critical to a thriving community.



Use these ideas to achieve more volunteerism in your neighborhood:

Post volunteer opportunities on your website - Keep them updated!

Don't ask for long-term commitments.

Create volunteer opportunities for families

Pair new volunteers with experienced volunteers

Publicly recognize and thank your volunteers

Post pictures of volunteer efforts on your website

Accommodate volunteer schedules

Send regular email blasts to all volunteers (

Premium Only)

Think about holding periodic "new resident orientation" meetings.

Remember that a volunteer's time is limited!

When volunteers offer their time, they still may not know exactly where to start. They often feel like they need permission to act, especially if they are new to the neighborhood. Invite them to act - The more specific the invitation, the better.

Login now and get started!