Sep/23/2011 01:12 PM Filed in:
Tips
Getting the word out about your website is critical!

The more people who know about the website and how to get involved, the easier it will be for you to accomplish the goals you've set for your community.

You don't need to hire a public relations professional.


Try these things inexpensive ideas to effectively promote your website:
Tell all of your friends. Word-of-Mouth is often the best marketing.

Include the web address on your printed material - newsletter, stationary, business cards, etc.

Hang flyers in common areas - laundry rooms, clubhouses, pools, parks, etc.

Encourage local groups like book clubs, cub scouts, and play groups to use the website - or to get a website of their own and then link to each other.

Include a neighborhood hot topic in your marketing materials to make your message stick! For example: "How are we going to pay for the pool repairs? Join us online to discuss the options."
Examples of how real organizations have have thrived after promoting their website:

Marlborough Mesa
Madison Park
Camelot Neighborhood Association
Rolling Oaks
Piggsville

Each month we feature a great community in the Neighborhood Link Network...

South Atlantic Neighborhood Association
is nestled between the Atlantic Ocean and the beautiful Halifax River and is home to some of Daytona Beach's greatest history including the oldest home on the City's beachside, Lilian Place.

Ciana Maglio (SANA President and webmaster) has done an excellent job using all of the tools that Neighborhood Link provides.
Learn more and visit:
SANA
Want to nominate your community to be the Featured Community? Send us a short email telling us why and a link to your site.
Email Us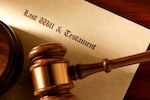 A last will and testament tells the world how you want your assets distributed after your death—and can provide you with a voice while you are alive but unable to communicate.

You know the saying about the two things we can't escape, so why not protect your wishes and your heirs when that fateful day arrives? (No, not April 15.) Everyone will die at some point, which means that everyone needs to have a will. Wills give you a voice after your death—and sometimes before—to help protect your wishes and those you care about.


Read More About:
Why You Need a Will!