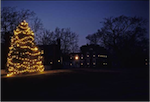 Use your website to spread good cheer!

The holiday season is an especially good time to bring a community together. Your community website can help your neighbors enjoy an extra special winter holiday season.


Try some of these things:
Update your website to celebrate the holiday season.

Have residents bring ornaments and decorate a community Christmas tree.

Recognize residents and business owners who go out of their way this season.

Have a holiday house-decorating contest.

Post decorating and safety tips on your website.

Hold a pancake breakfast, and ask a neighbor to dress as Santa.

Show a classic holiday movie in your home and invite neighbors.

Be of good cheer!

Examples of community websites promoting holiday spirit:
River Glen Homeowners Association
Kolin-Ruby Community Watch
Westmoor Sandpiper
Highland Park Neighborhood Association
Each month we feature a great community in the Neighborhood Link Network...

The
Woodlawn Heights Taxpayers and Community Association
held its first meeting on Thursday, May 10, 1895. "To make Woodlawn a better place in which to live," is the rallying cry of their Association. Each month they feature a local business on their homepage.

Woodlawn Heights has been using Neighborhood Link since 2003 and has done a great job utilizing all of the tools that Neighborhood Link provides.


Learn more and visit:
Woodlawn Heights CA
Want to nominate your community to be the Featured Community? Send us a short email telling us why and a link to your site.
Email Us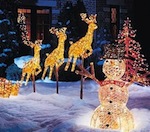 Does your homeowners association have a policy on holiday decorations?

Americans love to show their holiday spirit. From flying flags on Independence Day to spooky set-ups for Halloween to twinkling trees for the winter holidays, we put a great deal of time, effort and love into our displays. But when you live in a homeowners association community, your delightful decorations may be a nuisance to your neighbor.

Bright and noisy displays can quickly wear out their welcome and religious decorations could offend others. But you can still keep your holiday spirit while maintaining your community's standards.


Read More About:
Holiday Decorations And HOAs