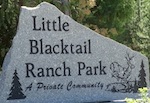 Each month we feature a great community in the Neighborhood Link Network...

Little Blacktail Ranch
in Careywood, Idaho is a small community of 61 homeowners nestled in the trees on the gentle slope of Little Blacktail Mountain in Northern Idaho.

Their homesites are between 5 and 20 acres of beautiful Idaho forest that hosts numerous wild turkeys, quail, and deer and an occasional moose or bear.

Little Blacktail Ranch began using Neighborhood Link just recently, but has already done a great job of utilizing many of the tools that we provide.


Learn more and visit:
Little Blacktail Ranch HOA
Want to nominate your community to be the Featured Community? Send us a short email telling us why and a link to your site.
Email Us
Sep/14/2012 03:26 PM Filed in:
Tips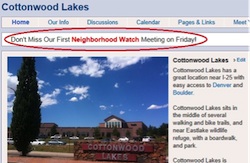 Get everyone's attention with the announcement box…

The announcement box (located at the top of the page just below the main menu) can highlight any message you have for the community.


It's very easy to use:
Click the Edit link next to the announcement box
Type the announcement that you want displayed. Feel free to use simple HTML tags like b, font, and i for formatting.
Type a URL to link the announcement to another page on your website or anywhere else on the Internet.
(Optional) Set an expiration date so the message automatically stops appearing after a particular date.

You can use the announcement box to:
Promote block parties
Invite businesses to advertise (Premium Only)
Post crime alerts
Remind people about street closures
Invite neighbors to subscribe to community email lists (Premium Only)
Announce the birth of a new baby
Link to your latest newsletter
Encourage people to pay their dues
Welcome new move-ins
Anything else that you can imagine

You can change your announcement as often as you like.

Login now and get started!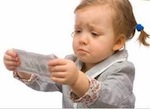 Learn how to protect your child from identity theft...

You're aware of the dangers of identity theft—and the hassle of trying to clear your name and credit should you ever become a victim. So you've taken steps to protect yourself.

But what about your children? Identity theft among teens and children is growing faster than any other age group. They have clean credit records and crimes against their identity often aren't discovered for years, making them attractive targets to thieves.

In this month's article, you will learn how to keep your child's identity safe!

Read More About:
How To Protect Your Child From Identity Theft