Managing Your Aging Parents' Finances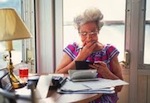 Learn how to find, understand, and manage your parents' finances…

Are your elderly parents having trouble staying organized? Do they forget common things like important dates, or ask for the same information over and over?

Are there reminder notes or memory aides scattered around their home? If so, your parents could be struggling with memory loss.
Among the many difficulties you and your parents will have to face in such a situation is managing their finances...


Read More About:
Managing Your Aging Parents' Finances...