Selecting The Right Senior Housing For Your Parents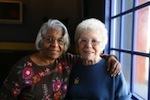 Each month we feature one article from our resource guide…

Watching our parents decline in health can be hard enough, but having to decide the level of care they need, the cost of that care and the best way to deliver it can be nearly impossible.

Most seniors want to retain their independence and live in their homes for as long as possible. Some need a little more assistance and some need more intensive care. Here's a look at three housing options for your aging parents: in-home care, assisted living facilities and nursing homes.


Read More About:
Selecting The Right Senior Housing For Your Parents...