Featured Community: Whitley Park, Bethesda, MD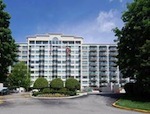 Each month we feature a great community in the Neighborhood Link Network...

Whitley Park Condominium Association
is a 10-story high-rise building that was converted from a hotel to luxury condominiums in a beautiful neighborhood in Bethesda, MD.

They are elegant, luxurious homes that share a multitude of amenities which include year round tennis, beautiful swimming pool and a friendly door person. It is also just a short drive to Washington, DC from Whitley Park.

Whitley Park joined Neighborhood Link in June 2010 and they have done an excellent job utilizing all of the tools that Neighborhood Link provides.


Learn more and visit:
Whitley Park Condominium Association
Want to nominate your community to be the Featured Community? Send us a short email telling us why and a link to your site.
Email Us