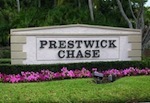 Each month we feature a great community in the Neighborhood Link Network...

Prestwick Chase HOA
in Palm Beach Gardens, FL is located in the gated community of PGA national. It is comprised of 226 single family units with 82 townhomes and 144 patio homes.

Prestwick Chase joined Neighborhood Link in July 2010 and they have done an excellent job utilizing all of the tools that Neighborhood Link provides.


Learn more and visit:
Prestwick Chase HOA
Want to nominate your community to be the Featured Community? Send us a short email telling us why and a link to your site.
Email Us