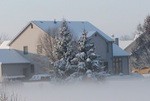 Each month we feature a great community in the Neighborhood Link Network...

Eagle Lake HOA
is a development of 149 single family homes created in 1990 in Ft. Wayne, Indiana. Eagle Lake has about 3 ½ miles of paved road and quiet cul-de-sacs.

Eagle Lake joined Neighborhood Link in September 2008 and they have done an excellent job utilizing all of the tools that Neighborhood Link provides.


Learn more and visit:
Eagle Lake HOA
Want to nominate your community to be the Featured Community? Send us a short email telling us why and a link to your site.
Email Us