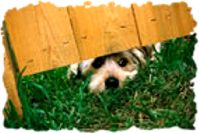 Association Responsibility
Whether family pets are housed indoors or live in enclosed property, a community association is responsible to its members to provide oversight and restrictions for certain pets and pet behavior. Most association's pet guidelines are consistent with established local ordinances and are primarily enforced for the health and safety of the community association residents and the animals.
Common Ordinances
One of the most common ordinances for pets is a leash law that requires a dog to be on a leash when not contained within a fenced property. Another local ordinance in some cities is a prohibition against an animal leaving feces on another owner's property. This type of behavior can be subject to a fine for the owner. Additionally, a dog that barks all night can be in violation of local noise. Under these circumstances, an association has a duty to its members to provide controls regarding this behavior to protect a degree of harmony for other residents.
Common Pet Rules
Examples of common pet rules contained in community association deed restrictions are a limit on the number of cats and/or dogs or restrictions on the size and breed of dog that can inhabit a residence. Too many animals living in a home or dogs too large for condominium living can become unmanageable and a nuisance or health threat to the owner and the community. Associations can also enforce restrictions on the types of animal considered a family pet. No family desires to have their children playing near wild, dangerous animals.
Conclusions
Responsible pet ownership can provide numerous benefits to the individual owner and the rest of the community. But pet owners should be conscientious in controlling their animals to eliminate the need for the association to address this as an issue.
Source: Association Times