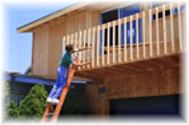 One of the most active committees established in an association is the architectural control or review committee. The function of this committee is to determine whether or not proposed changes to a property are consistent with the deed restrictions and aesthetic standards of the community. Deed restrictions provide land use restrictions along with limits on what physical changes may or may not be made to the exterior of the property. Most bylaws require written approval before any changes are made to the exterior appearance of a home or property, including landscaping.
This approval process sounds cumbersome but is often quite simple. Most associations have standard written forms (often called architectural variance or change requests) which are filled out by the owner and submitted, with appropriate architectural drawings if necessary, to the association's board of directors or property management office. Those requests are then forwarded to the architectural control committee members who review and discuss the proposal at the committee's periodically-scheduled meetings. As with full board meetings, the meetings of the architectural control committee are publicly-posted and open to attendance by association members.
Change requests are routinely approved unless the requested changes conflict with established standards of the community. Common requests are for installation of rain gutters, installation of a deck or patio, changing the paint color of the home, construction of a swimming pool or children's play scape, and installation of flower beds or other landscaping requests. While seeking the approval of a community association for these changes may trouble some owners, it is important to note that a community's enforcement of architectural guidelines can be upheld in a court of law. Although an association's survey of property changes is limited to changes visible in public view, should an association become aware of changes that do not meet established standards an owner can be required to bring them into compliance. This applies whether or not the owner was the one who made the changes. The architectural control committee does have flexibility to grant variances to the deed restrictions.
Success for an association's efforts to uphold architectural guidelines can best be achieved by the association exercising care in drafting written guidelines to educate owners and reduce disputes over requested changes. For those requests that are rejected, an association should also have a formal appeals process, preferably to the full board of directors, to discuss the requested change.
Architectural guidelines are not intended to arbitrarily control property, but rather are an additional means of fulfilling the association's duty to its members to maintain standards which provide for a beautiful community and protect property values.
Source: Association Times