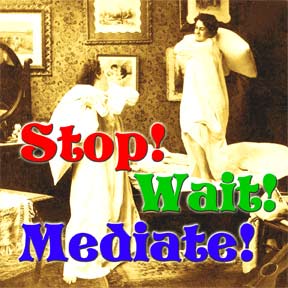 The ABC Homeowners Association, in Houston, Texas, has been trying to collect late fees from a homeowner for months. It seems the homeowner did not understand why he was being charged with the fees he felt he was unjustly being singled out and subsequently threatened the Association with a lawsuit for harassment.
Years ago, the board of directors would have called their attorney but a funny thing happened on the way to the court house the board chose mediation.
If you've given up on negotiating a settlement of your dispute directly with the other party, mediation may be the most painless and efficient way to solve it.
Alternative Dispute Resolution
Mediation is a form of Alternative Dispute Resolution (ADR) that is offered as an alternative to the litigation process. Mediation is quick, private, fair and inexpensive compared to a lawsuit. Mediation sessions are usually scheduled within a few weeks or, at most, a couple of months from the time of request and most sessions last only a few hours or a day, depending on the type of dispute. In contrast, lawsuits often take months or even years to resolve.
What Mediation Does
Mediation gives the parties the opportunity to discuss the issues, clear up misunderstandings, determine the underlying interests or concerns, find the areas of agreement and incorporate those areas into resolutions. A mediator does not resolve the dispute or impose a decision on the parties. Instead, the mediator helps the parties to agree on a mutually acceptable resolution. The mediation process is strictly confidential. Information disclosed during mediation typically may not be revealed to anyone and, should mediation fail, may not later be used in the courtroom.
Mediation is particularly valuable when your dispute involves another person with whom either by choice or circumstance you need to remain on good terms. This may include family members, co-workers, business partners, your neighbors or others with whom you have a continuing personal or business relationship.
Finally, agreements reached through mediation are more likely to be carried out than those imposed by a judge. When folks go to court, the losing party is almost always angry and often prone to look for ways to violate the letter or spirit of the decision. A number of studies show that people who have freely arrived at their own solutions through mediation are significantly more likely to follow through on them.
Mediation. . . it's time saving and cost effective. Above all, it works!
Source: Association Times