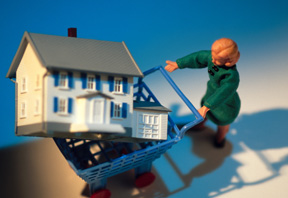 The saga continues, of course. After all of the notifications to the owner of the pending foreclosure action, the property is finally sold at auction. There were no bidders at the foreclosure auction except for the association . . . so the association purchased the property for an amount equal to what it was owed. The association's attorney sends a letter to the prior owner informing him that he no longer owns the property and prepares a deed for filing at the county records building reflecting the new ownership. The association, though it would have preferred otherwise, now holds the asset.
What can the association do with this property? What is the Board's responsibility? Will the previous owner be given a chance to redeem the property? (In Texas, homeowners have the right to redeem their property within 180 days of foreclosure, so until that time is up, there remains the possibility that the new owner by way of foreclosure may not retain the property even if he wishes to do so.)
There are many questions that need to be answered by an association's board of directors before and during this tedious process. Does the Board want to contact the mortgage company to find out the amount owed on the underlying first lien? Keep in mind that the association lien is subordinate to the underlying mortgage in most states and if the mortgage company decides to accelerate the underlying note, the new owner may lose the property through foreclosure just as the previous one did. In that case, the association may have lost its ability to recover attorney fees as well as the unpaid assessments by way of future resale.
Will the association seek to offer its new asset for rent to the public? Throughout its ownership, the association will need to take responsibility for the maintenance of the property. That means that if the grass needs to be mowed, the association must pay to have it done. It will also need to provide for insurance on the property. Alternatively, will the association decide to sell the property? If so, a real estate agent experienced in the local market and without conflicts of interest should be engaged. If the property is sold or leased, what are the tax consequences to the homeowners association? It looks like a call to the association's CPA would be a wise move. Meanwhile, costs associated with the foreclosure keep adding up.
Regardless of what the association decides to do with the home it acquired, the Board of Directors needs to establish a policy regarding the foreclosure of such property. Like most things in life, the chore of foreclosure - - given its many incidental issues - - is not as simple as it may at first appear.
Source: Association Times