Building finishing systems or siding, whether EIFS (synthetic stucco), stucco, wood, vinyl or even aluminum have often been carelessly eliminated or never included in the capital reserve funding of many communities. Common reasoning is that the siding should last for 40 or 50 years, or it should last as long as the building. Unfortunately, many aging communities are now being faced with the hardship of replacing siding without the funds to do so. In some cases, the result has been significant special assessments to residents of the community. While premature replacement is more common with EIFS, stucco surfaces or wood style siding, associations with vinyl or aluminum siding are also being affected.
Siding manufacturers have come a long way in providing an improved product and superior warranties for the materials, which affords some assurance of protection. However, there are many factors that affect the performance and useful life of a siding material or building finishing system. Community associations should be made aware of the potential problems of their system.
EIFS/Stucco
EIFS and stucco systems rely heavily on the adequacy of the initial installation. An improperly installed system can lead to moisture trapped behind the weather barrier, causing leaks, mold and structural damage. Improper detailing can also cause surface cracking.
There are a number of mistakes an untrained or careless applicator can make that result in deficient installation. These mistakes include improperly fastening the insulation board or lath to the building structure, not installing the reinforcement mesh properly, not installing the proper thickness of material, or most often, by improperly flashing building fenestration and interfaces with adjoining building materials. The result of these conditions is a reduced effective use life and eventual total replacement of the system.
Wood Siding
Wood siding requires continued maintenance or replacement over time. Typically, wood siding will begin to show signs of aging over time. It is important that deteriorated sections of the siding are replaced (through maintenance) prior to any staining and/or weatherproofing project. Many other wood siding installations on communities have too much exposure and/or a very thin siding thickness. The result is eventual splitting and cupping of the siding, again leading to problems and replacements.
Most importantly, the aging siding may not have been properly maintained and is in generally poor condition. There may be many areas where the existing siding is cupped and brittle. The nails at many locations may be rusted, ineffective or missing. Sections of siding may have voids (through knotholes or splitting members). All of these conditions will continue to worsen and can provide for a means of water penetration and possible additional damage to the existing wall sheathing or interior space. Increased replacements and maintenance should be expected.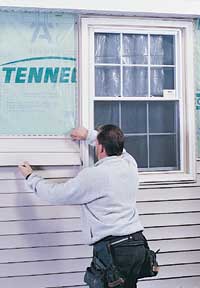 Vinyl/Aluminum Siding
As with any material, the existing vinyl or aluminum siding will require periodic minor maintenance to avoid water infiltration. In addition, periodic cleaning (power washing) should be planned for. The association's maintenance plan should be continually updated to ensure that the siding is maintained properly at all locations.
As the buildings age, deficient fastening practices of the siding may cause additional warping of sections of siding. Initial detailing of flashings and underlayments is paramount to assure a weather tight installation. Periodic inspections of the materials weathering abilities should be made and compared to the warranty conditions. Increased replacements for damage or aesthetics and continued increased maintenance should be expected.
Where do we stand?
Unfortunately, it is rare that the previously mentioned installation or material deficiencies are visually apparent to the new community. Typically, as the problems with building leaks become more and more prevalent in a community, the need for significant repair and/or replacement of siding becomes a grim reality. Community buildings start to look aesthetically weathered and old. Siding repairs and replacements become a larger and larger part of the operating or maintenance budget. The management begins to experience more and more frequent complaints about water infiltration and interior damage. The interior damage to the framing members, sheathing or unit amenities becomes more and more significant. These are the telltale signs of the need for siding replacement. At this point in time, the cost to maintain may become significant and a phased replacement of the system is, in all likelihood, a reality.
The need for proper funding for siding replacement and/or the checks on installation and materials should start at the transition phase of a community association. This will enable the repair of deficient installation and the proper funding of this replacement item. Unfortunately older communities don't have that luxury. However, starting to fund for siding replacement at any time is paramount in maintaining the integrity of these older communities. When the time arrives for the siding replacement, some funding is clearly better than none at all.
If you live in a new or aging community, have your siding system checked for the material's existing condition and installation detailing. Review leak history that is associated with siding and windows. Incorporate any recommended repairs into the association's transition agreement or preventive maintenance plan. Proper and continued maintenance and repair will prolong the useful life of any system.
Finally, based upon all of the above, consider including the eventual replacement (phased or total) of all of the community's siding in the association's capital reserve funding plan.
Related Articles Concerning Reserve Studies
Source: Association Times