This week, Gov. Cooper and NCDHHS Secretary Kinsley announced that
NCDHHS will launch Medicaid Expansion
on Dec. 1, 2023, giving more than 600,000 North Carolinians access to health care.
On Sept. 22,
Gov. Cooper announced
that he would allow the state budget passed by the General Assembly to become law and directed NCDHHS to immediately begin the process to start Medicaid Expansion in North Carolina. Medicaid expansion will be transformative for access to health care in rural areas, for better mental health and for veterans, working adults and their families, while bringing billions in federal dollars to the state.
Beneficiaries will receive care the same way as existing Medicaid beneficiaries and be eligible for the same comprehensive benefits and copays as other non-disabled adults on Medicaid. More information about Medicaid Expansion is in the frequently asked questions document in
English
and
Spanish
.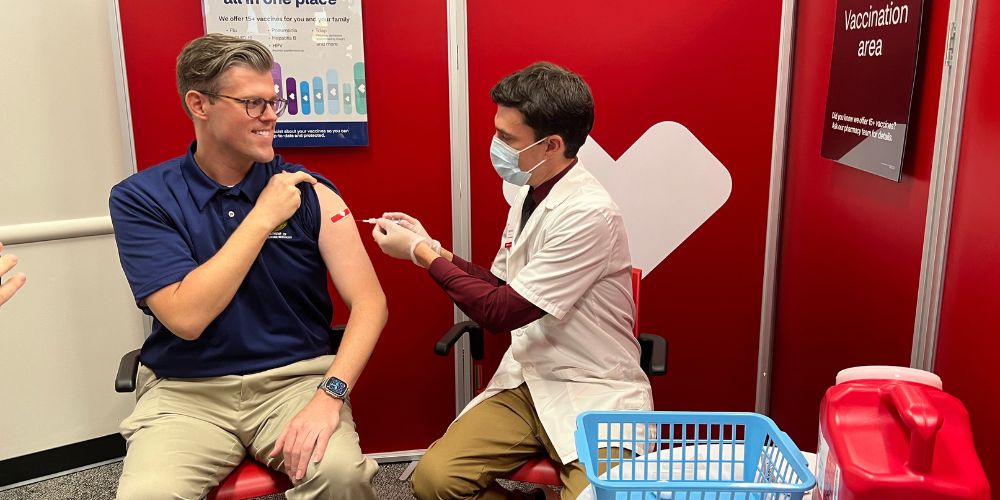 This week, NCDHHS Secretary Kinsley received the annual flu vaccine, along with the updated COVID-19 vaccine at CVS Pharmacy in Raleigh.

Health officials recommend everyone 6 months and older get their annual flu shot, ideally before the end of October, and that everyone 6 months and older get the fall COVID-19 vaccine, if it's been two months since their last COVID-19 vaccine. North Carolinians can get the vaccines at the same time.

Because the COVID-19 virus continues to evolve, the updated COVID-19 vaccine is designed to match the changed virus and help protect people from serious illness, hospitalization and death.

The federal government has resumed allowing households to order four free tests through COVIDTests.gov. These tests will detect the currently circulating COVID-19 variants. North Carolinians are encouraged to use the free tests as needed while preparing for travel and gatherings with friends and family throughout the 2023 holiday season.

In addition to inviting U.S. households to order four free COVID-19 tests, you can find free at-home COVID-19 tests in North Carolina from Community Access Points (CAP). For the latest information related to COVID-19 testing, please visit our COVID-19 Testing and Treatment webpage.
Julian F. Keith Alcohol and Drug Abuse Treatment Center Unveils Enhancements


In keeping with one of NCDHHS' top priorities to improve behavioral health and resilience, NCDHHS' Julian F. Keith (JFK) Alcohol and Drug Abuse Treatment Center in Black Mountain recently unveiled a new patient care unit and announced an innovative partnership to redefine recovery journeys. The renovations and expansion of the facility reaffirm NCDHHS' commitment to addressing the rising needs of those battling high-acuity substance use disorders. JFK has upgraded its patient care unit and has embedded two clinicians who meet with people post-overdose to facilitate an entrance to inpatient care. JFK formally launched outpatient services in 2022 to offer comprehensive clinical assessment, individual/group/family therapy, peer support and medications for opioid use disorder. To enhance the recovery experience, JFK has now integrated peer support services throughout the treatment process. JFK is one of two alcohol and drug abuse treatment facilities in North Carolina operated by NCDHHS. For more information on JFK, visit the facility's website.


Community Job Fair on Oct. 5 in Morganton


A community job fair will be held at WorkSource West, 200 Enola Road in Morganton on Oct. 5. The event is being hosted by NCDHHS' Division of Vocational Rehabilitation Services and is open from 1 to 2 p.m. for students attending Burke County Public Schools and the North Carolina School for the Deaf, and from 2 to 6 p.m. for the general public. More than 15 local employers will be on-site recruiting new employees, including the state's Broughton Hospital and J. Iverson Riddle Developmental Center. WorkSource West is one of the department's two training centers that offer a range of employment-related support services support for vocational rehabilitation consumers with support needs related to intellectual and developmental disabilities, autism spectrum, psychosocial, physical health and hearing loss. This free event is open to the public and anyone looking for a new job is encouraged to attend.


Annual Assistive Technology Expo Set for Oct. 5


NCDHHS will host its annual Assistive Technology (AT) Expo, "A Day in the Life with AT," on Oct. 5 from 9 a.m. to 5 p.m. at the McKimmon Conference and Training Center, 1101 Gorman St. in Raleigh. The expo is an event for individuals with disabilities, their family members, employers and organizations interested in learning more about the range of assistive technology available. The expo will feature a vendor hall with more than 30 vendors, break-out sessions that include continuing education credits and speakers. Registration is free but required, and there will be a virtual option for those who cannot attend in person. Check back on the NCDHHS website for more information about how to attend virtually and see a flyer for more information about the event. NCDHHS' Assistive Technology Program (NCATP) is a state and federally-funded program that provides assistive technology services statewide to people of all ages and abilities. The program promotes independence for people with disabilities through access to technology. Ten NCATP Centers are located throughout North Carolina.

Funding Awarded for Agriculture Workers Digital Initiative


NCDHHS' Office of Rural Health, in partnership with East Carolina University and North Carolina State University, has been awarded a five-year, nearly $6 million award from the National Institutes of Health (NIH) to advance health equity by promoting digital inclusion for agricultural workers and their families in North Carolina. More than 90,000 farmworkers and their family members are estimated to live in North Carolina, and the $100-billion-a-year agriculture industry in the state is dependent on a healthy workforce. The goal of the Agricultural Workers Digital Equity Initiative is to increase agricultural workers' access to digital health services and emergency communication by improving access to affordable, reliable high-speed internet. NCDHHS' Farmworker Health Program will administer the NIH award and lead a research team that includes NC State and ECU to engage agricultural workers across the state and propose strategies to promote digital inclusion. NCDHHS' Office of Rural Health's mission is to support equitable access to health in rural and underserved communities and this award will help further that mission.

NCDHHS Recognizes Ageism Awareness Day: Oct. 7


For the first time, NCDHHS is joining the American Society on Aging to acknowledge the newly established Ageism Awareness Day on Oct. 7. Modeled after the United Nation's International Day of Older Persons, Ageism Awareness Day provides an opportunity to draw attention to the existence and impact of ageism in our society. The most widespread and socially accepted form of prejudice, ageism is defined by the World Health Organization as "the stereotypes (how we think), prejudices (how we feel) and discrimination (how we act) toward others or oneself based on age." NC has seen significant demographic changes in the 21st century, with a national ranking of ninth in a population aged 65 and older. NCDHHS is hosting a virtual webinar event on Oct. 5 at 10 a.m. to help bring attention to the existence and impact of ageism in our society. To learn how to reframe aging in our communities, join the virtual event on Oct. 5.

NCDHHS Partners to Combat Disability Fraud


NCDHHS' Division of Disability Determination Services is partnering with three other agencies to form a new investigative unity created to combat disability fraud. The N.C.based Cooperative Disability Investigations (CDI) Program will be operated and staffed by the United States Social Security Administration's (SSA) Office of the Inspector General, the SSA's regional office in Atlanta, Georgia, the N.C. Department of Insurance's (DOI) Criminal Investigations Division and NCDHHS' Division of Disability Determination Services. CDI's primary mission will be to uncover illegal acts by investigating statements and activities that raise suspicion of disability fraud by claimants, medical providers, interpreters or other service providers. The CDI Unit will be based in Raleigh, and consist of six officials, including one from NCDHHS.
You're receiving this email because you subscribed to receive updates from
the NC Department of Health and Human Services