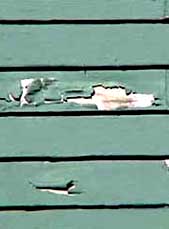 Peeling or cracking paint, on your home's exterior, may be a sign of a humidity problem or improper application. Peeling exterior paint is caused by moisture being absorbed through the back of wood siding and passing through to the exterior surface under the paint. The paint loses adhesion and peels off. The exterior should be vented to allow any moisture behind the siding to escape.
Prescription Checklist:
Control moisture problems.
Air sealing (Home Sealing) can keep moist air from leaking through your walls. To adequately prevent moist air from moving into wall cavities, you may need to hire a contractor who is a building science specialist.
Apply primer to surfaces before painting and follow the paint manufacturer's application instructions.
Source: EnergyStar.gov