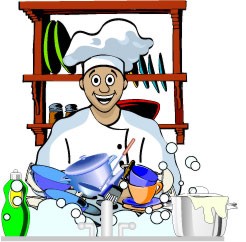 Replacing a dishwasher manufactured before 1994 with an ENERGY STAR qualified dishwasher can save you more than $30 a year in utility costs.
Earning the ENERGY STAR means a product meets strict energy efficiency guidelines set by the US Environmental Protection Agency and the US Department of Energy.
ENERGY STAR qualified dishwashers use at least 41 percent less energy than the federal minimum standard for energy consumption.
ENERGY STAR qualified dishwashers use much less water than conventional models. -- Learn about the Top Five Ways to Save Water.
Because they use less hot water compared to new conventional models, an ENERGY STAR qualified dishwasher saves about $90 over its lifetime.
Remember, saving energy prevents pollution. By choosing ENERGY STAR, you are helping prevent global warming and promote cleaner air without sacrificing the product quality and performance you expect.
Saving Energy While Washing Dishes:
Run your dishwasher with a full load. Most of the energy used by a dishwasher goes to heat water. Since you can't decrease the amount of water used per cycle, fill your dishwasher to get the most from the energy used to run it.
Avoid using the heat-dry, rinse-hold and pre-rinse features. Instead use your dishwasher's air-dry option.
Source: EnergyStar.gov