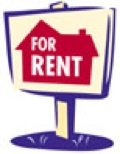 Landlords understand that the longer their rental property stays vacant, the more profit they will lose on the investment. The following five steps will help you find a great renter for your property in a shorter amount of time.
1. Post a highly visible sign
The easiest and best way to market your rental home is the time-tested "For Rent" sign. Simple as it may be, this method capitalizes on the idea that prospective renters will drive around desired communities in search of available housing. So take advantage of their presence and make your sign as visible and readable as possible.
To do this, place more than one sign on the property. Many landlords place a small box on one of the signs to hold flyers with rental details. This helps you save time by discouraging prospects who can't meet your price, policy and rental expectations (i.e. no dogs allowed). Be sure to include pictures of the rental property on the flyer, as they truly do say 1000 words! These flyer tips will qualify prospects and save you considerable time by reducing unnecessary phone calls and showings.
Also, your contact information should be clearly viewable and in large print on the sign. Many landlords lose rental opportunities by making the writing too small or unreadable. To make your signs stand out better, tie two or three brightly colored balloons to it. Adding balloons to the "For Rent" sign in front of your rental can increase its' effectiveness by 150%. Who knew helium had such a positive effect?
2. Spread the news
Once you have your signs and flyers ready, distribute the rental details flyer to all the free community bulletin boards in the vicinity. You can find free boards at local grocery stores, churches, restaurants, drug stores, community centers and government offices. This method is especially effective if you are marketing to college students, immigrants or locals.
3. Share the rewards
Enlist other people to market your rental by offering other tenants, friends and neighbors a referral fee if they recommend a new tenant. Make sure they know that the referral fee is only payable upon the prospective tenant meeting your rental requirements (rent, policies and successful background check) and signing a lease for a specified time. Customary referral rewards range from $50-$200, and can considerably shorten the time it takes to rent your property, as well as improve your applicant pool since most people won't recommend someone they don't want to live nearby. This tactic also helps improve the neighborhood's communication and relationships, building a better sense of community.
4. Advertise online
People considering a move generally go to the internet for housing information particularly about new communities that they wish to move to. Online ads allow landlords to post much more information to better pre-qualify prospects, and the best part is the ad is visible 24 hours a day, 7 days a week! The internet has many property rental sites that vary in price. A good starting point is to start with an inexpensive ad (www.usrentallisting.com) in order to test the ad without risking too much. Or, start off with a free rental listing at www.CraigsList.com.
5. Resort to the classifieds
If the preceding tactics don't bring in a new renter quickly enough, you can always take out a classified ad in your local newspaper. Ads can be more expensive if you use the larger newspapers in most cities. However, if you go to smaller publications that distribute in rental's neighborhood, municipality or city district, the price will be much more reasonable. Ads in big newspapers are generally very short because word usage is limited. Smaller publications often allow more details in the ad.
Keep in mind that recruiting new renters isn't everything that's involved in making a smart leasing decision. Be sure to adequately review their credit history and criminal background before you hand them the keys to your property — or you might find yourself back in the market for another renter much sooner than you expected! You can quickly and easily check a prospective tenant's background at Landlord2Landlord.