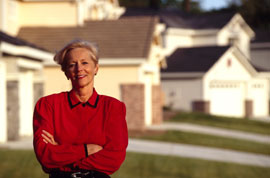 In response to their tastes and preferences, builders are developing maintenance free communities for active adults and providing more and increasingly sophisticated amenities similar to those one might find in a country-club setting. Unlike in the past, retirees do not necessarily want to live in smaller homes, and they do not necessarily wish to relocate to retirement communities far away from their family and friends. The cookie-cutter approach to building retirement homes will not work with baby boomers. The boomers are defining what they want and no one size fits all will work for them. Anything that reeks of having the cookie-cutter approach will turn them off. Today's seniors will look favorably at communities which provide an active lifestyle and a secure environment.
Security has become a major component in the decision to purchase a retirement home. The demand for Gated Communities has increased drastically over the past 5 years. These communities provide either key card access or a security gate manned 24/7. Procedures are established and communicated to the residents regarding guest policies and contractor access. Many of the communities provide a roving patrol equipped with radios and cell phones. Neighborhood watch programs are very popular in retirement communities without security.
A recent survey of home builders and developers reveals that three-quarters of buyers aged 50 and up are searching for a home that provides yard or grounds service and exterior home maintenance. Older home buyers want maintenance-free lifestyles, freeing them up to travel, socialize and pursue the activities they choose. The study dispels the common perception that seniors prefer to move to traditional warm-weather retirement destinations like their parents did. An overwhelming majority of seniors want to live near their loved ones or in the communities where they have put down roots.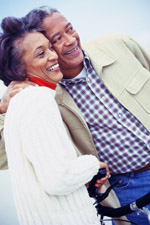 Here are some of the top motivating factors revealed for seniors moving to an age-targeted community:
Nearly half of the buyers indicated a desire to be closer to children, grandchildren and family.
More than half of the builders in the 50+ market were building single-family detached homes. Three out of four single-family homes for seniors started by builders were one-story.
About half of the builders built 50+ senior communities in close-in suburbs.
About two-thirds of the builders reported that their customers were relocating from the same community or the same state.
Convenience is a major plus for senior buyers. More than three-quarters of the builders surveyed built 50+ communities in close proximity to shopping centers, churches and medical facilities.
Successful retirement communities provide amenity packages customized to fit the needs of this new generation of retirees. Golf and tennis are two major drawing cards in larger communities. Tournament grade facilities often are nestled within larger retirement communities. Facilities are either open to the public or private and supported 100% by the residents of that community. Smaller retirement developments will often have an active social or recreation program staffed by volunteer committee members. These committees will set up activities such as dances, potluck dinners, bingo, and seminars and educational programs. Group travel is also very popular among seniors.
The survey also revealed that today's seniors are increasingly technologically savvy. Nearly 70% of the builders and developers surveyed built communities with homes that provide high-speed internet service, while many include structured wiring and intercom or entrance phones.
The baby boomers have certainly proven to be trend-setters and have definitely changed the complexion of retirement communities and how they are built and marketed.
Source: Association Times