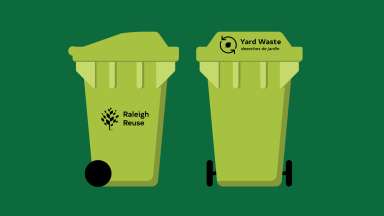 Yard Waste Carts
New 95-gallon carts will be added to residential curbside service in summer of 2022
---
Jump To:
CART DETAILS
WHO GETS A CART?
IMPORTANT CHANGES
NO MORE PLASTIC BAGS
NO MORE CUSTOMER-OWNED CONTAINERS
BIODEGRADABLE PAPER BAGS AND BUNDLES ACCEPTED
COLLECTION SCHEDULE
FOR PROPERTY MANAGERS
FAQ
---
Cart Details
The City of Raleigh is adding 95-gallon yard waste carts to our residential curbside pickup service beginning in summer of 2022.
The bright green 95-gallon carts with wheels mean:
greater convenience and safety for you and our crews
much more room - carts offer three times the capacity as a standard container
more reliable bi-weekly pickup schedule
reduced carbon emissions with fewer truck runs
protecting the environment – reduces material sent to the landfill
more products from the City's Yard Waste Center (your yard waste is processed into mulch and compost)
The new roll cart is just like your City-issued olive-green garbage cart and blue recycling cart, only it's bright green.
Who Gets a Cart?
Every residential customer who has curbside garbage collection from the City of Raleigh is scheduled to receive a yard waste cart. It will automatically be delivered to your service address in summer of 2022 UNLESS you opted-out.
If you receive a cart and would like it collected, please let us know by completing this form. Carts should be left at the curb for collection.

Important Changes
Starting July 5, 2022 there are several changes in addition to the carts designed to enhance yard waste service and protect the environment.
| CURRENT | NEW | EFFECTIVE DATE |
| --- | --- | --- |
| Customer-owned containers (various shapes, sizes and materials, up to 35 gallons) | 95-gallon City issued carts | July 5, 2022 |
| Clear plastic bags, bundles, and biodegradable bags | ONLY biodegradable bags and bundles | July 5, 2022 |
| Pickup is bi-weekly on the same day as recycling | Pick-up is bi-weekly (on the week opposite of your recycling) | July 5, 2022 |
No More Plastic Bags
With the adoption of yard waste carts comes a greater focus on sustainability. Effective July 5, 2022, we will not pick up yard waste left in plastic bags. This is to protect the environment – it's important to keep plastic and other pollutants out of the yard waste stream. Biodegradable bags can be processed at the Yard Waste Center and do not contaminate the end products.
No More Customer-Owned Containers
Effective July 5, 2022, we will no longer collect yard waste left in customer-owned containers. Switching to City-issued roll carts reduce the potential for lifting injuries for both customers and crews.
Biodegradable Paper Bags and Bundles Accepted
Effective July 5, 2022
In addition to using City-issued roll carts for yard waste, customers can use biodegradable paper bags or bundles to prepare residential yard waste for curbside pickup year-round:
Biodegradable paper bags (limit: 15 bags per pick-up, 25 pounds per bag)
Bundles -- (limit: 5 bundles per pick-up, 50 pounds per bundle)
Collection Schedule
Yard waste will be collected bi-weekly, alternating weeks with recycling pickup. Example: Tuesday is my collection day. One Tuesday is garbage and recycling day; the next Tuesday is garbage and yard waste day. This is to limit the number of carts at the curb to no more than two at a time. Look for your updated yard waste and recycling calendar with delivery of your yard waste cart.
An electronic version of the Yard Waste and Recycling Calendar will be available on this page by June 30, 2022.
For Property Managers
If you manage utility accounts for your tenants, please be sure to share information about yard waste cart delivery so that they may participate in the opt out option, if applicable.
Please communicate with your residents that you have opted out on their behalf. This means yard waste carts will not be delivered to your community. Your residents may still participate in the program by placing biodegradable bags and bundles at the curb for collection.