Upcoming Events and Engagement Opportunities
The Spring 2023 Neighborhood Board Retreat Application is Now Open!
The City of Charlotte's Housing & Neighborhood Services department will host a Neighborhood Board Retreat on Saturday, February 18, 2023, from 8 a.m. to 2 p.m.

The Neighborhood Board Retreat is a free opportunity for neighborhood and business associations to come together to assess the current state of their community, identify and prioritize strategic goals, create an action plan and improve the quality of life in Charlotte's neighborhoods. The retreat is open to all neighborhood organizations and business or merchant associations within Charlotte's city limits.
Neighborhood Board Retreat attendees will receive:
A customized Quality of Life Explorer report

Networking and idea sharing with other community leaders

Guidance with planning yearly goals and board priorities

Idea development with trained, experienced facilitators

Expert support from staff and community resources

A credit of up to $1,500 toward volunteer hours required for the Neighborhood Matching Grant (eligible neighborhoods only)
Retreat capacity is limited. Organizations will be considered on a first-come, first-served basis with priority given to first-time attendees. A minimum of five participants is required for your organization's application to be considered complete. Each neighborhood group can have up to eight participants.
Apply online by December 9. Application decisions will be emailed by December 16.

Check out the highlight video from the Summer 2022 retreat and visit our website to learn more about the Neighborhood Board Retreat. You can also view past neighborhood summaries to learn what other Charlotte neighborhoods have identified as priorities for their communities.
If you have questions regarding the retreat, please contact Nichelle Wilson at nichelle.wilson@charlottenc.gov.
---
Mayor's Mentoring Alliance - Now Accepting 2023 MMA Awards Nominations
Consider nominating a deserving Charlotte mentor, mentee, or mentoring organization that is making a difference in the Charlotte community for a 2023 Mayor's Mentoring Alliance (MMA) Award. Nominations will be accepted until December 15 at 11:59 p.m. Awards will be given in the following categories during the event:
Mentor of the Year

Mentee of the Year

Best Collaboration in Mentoring

Grassroots Mentoring Organization of the Year

Peer Mentor of the Year

Educator Mentor of the Year
Nomination Link: https://www.surveymonkey.com/r/2023mmaawardsnomination
---
Solid Waste Services - Bag Exchange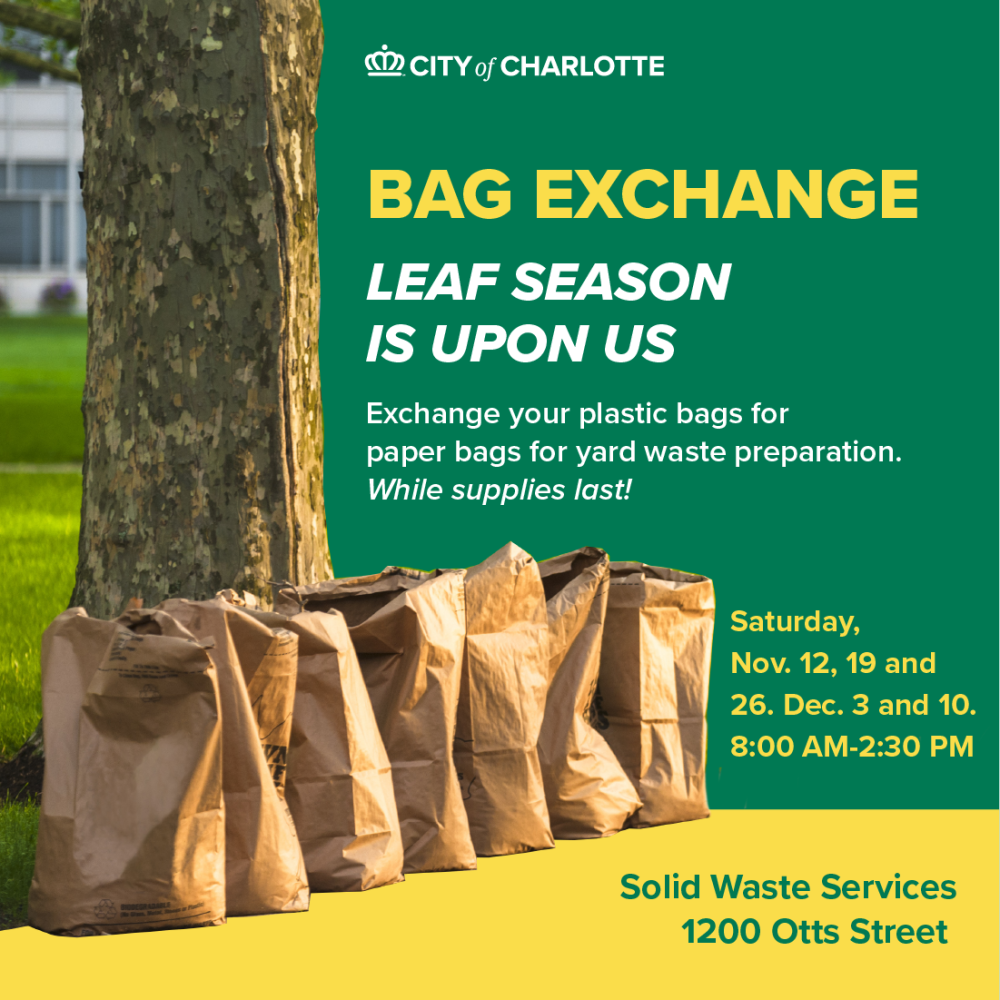 The City of Charlotte's Solid Waste Services is hosting a bag exchange event on November 19 and 26. The exchange will take place from 10 a.m. to 2:30 p.m. at 1200 Otts Street.
Learn more about how to prepare yard waste for collection.

---
Safe Home Rehabilitation Program - Apply by November 27
The Safe Home Housing Rehabilitation Program provides grants to low-income homeowners to address needed home repairs. The program seeks to correct code and incipient violations (items in a house that will need to be repaired or replaced in two to three years) and make general property improvements. The program serves single-family owner-occupied dwellings.
Qualifications:
Residences located within Charlotte city limits

Single-family homeowners occupying the home, with incomes under 60 percent of the area median income
Learn more about how to apply for the Safe Home Rehabilitation Program.
---
Training on Demand: Succession Planning for Neighborhood Organizations
Succession planning for neighborhood organizations is imperative. Whether a board vacancy occurs due to an emergency or the anticipated transition of a long-term leader, being deliberate, thoughtful, and having a written succession plan in place can help neighborhood organizations avoid the challenges of leadership changes.
To learn more about succession planning for your neighborhood organization, watch the replay. Visit the Community Engagement Training on Demand page for additional training opportunities.
---
For your consideration
Mecklenburg Property Revaluation Notices Won't Go Out In January, Assessor Says
City of Charlotte Launches Travelsafely App To Improve Traffic Safety
Central Avenue Beautification Grant Project Connects Businesses And Local Community
Local Nonprofit Awarded Grant To Expand Affordable Housing Development
City of Charlotte Housing & Neighborhood Services
Old City Hall, 600 East Trade Street
Charlotte, NC 28202
Sent on behalf of City of Charlotte, NC by PublicInput.com
2409 Crabtree Blvd, Suite 107, Raleigh, NC 27604